Schola Campesina works directly with small-scale food producers' organisations identifying themselves with the food sovereignty movement and with the 2015 Nyéléni Declaration.
"

The diverse knowledge and ways of knowing of our peoples are fundamental to Agroecology. We develop our ways of knowing through dialogue among them (diálogo de

saberes

). Our

learning

processes are horizontal and peer-to-peer, based on popular education. They take place in our own training centers and territories (farmers teach farmers, fishers teach fishers, etc.), and are also intergenerational, with

exchange

of knowledge between youth and elders. Agroecology is developed through our own innovation, research, and crop and livestock selection and breeding

"
How do we operate?
We train organisations of food producers (peasant farmers, fisher folk, indigenous peoples, farmers, landless …)
Our starting point is the local level, so that our position is deeply grounded and thereby enhanced, in order to influence change on the global level.
Our work is constantly in a bi-directional sense: we follow global processes in order to influence them and, at the same time, we apply global outputs at the local level, otherwise, we will not succeed one way or the other.
Schola Campesina is based on the existing "Agroecology schools" of LVC specifically regarding the horizontal pedagogy "Campesino a campesino" and the principle of "Dialogo de Saberes".
The training and research themes are proposed by a pedagogical committee made up of partners organisations that share the basic principles of Schola Campesina.
Schola Campesina pay specific attention to languages as instruments of popular culture. It aims to go beyond the "colonial" languages: movements should not limit themselves to these languages as an instrument of communication between different 'ways of knowing'.
Given that historically the family structure was often based on patriarchy and has oppressed women for centuries, we must find new ways of ensuring the transfer of knowledge in a world in which farming is not inherited from father to son, but rather, new entrants experience
Being held near Rome area Schola Campesina has the particularity to benefit from peasant and activists knowledge at world level. Rome is indeed the headquarter of all food and agriculture related UN institutions where we take part to defend our struggles.
An agroecology school must be rooted in a territory and a community of knowledge; the bio-district represents these territorial roots.
Beyond the training objective, the School is also a centre for Participatory Action Research. It seeks to mobilize knowledge from peasants and their organizations, from academicians and their institutions, from activists and their organisations through a Dialogo de saberes. Schola Campesina seeks to stimulate a co-production of knowledge thanks to a constructive dialogue between Agroecology and Food sovereignty allies.

Schola Campesina hosted an advocacy training for CSA's groups (Urgenci)
Schola Campesina is facilitating a European workshop on global governance mechanisms of food and agriculture directed to Community Supported Agriculture groups in the frame of an Erasmus+ project on advocacy capacities coordinated by Urgenci (10-14 Oct. 2018, Italy).
Cities around the world are starting to pay attention on food issues from different entry point: obesity issues, contaminations, food insecurity, water scarcity, poverty, etc. The Milan Urban Food Policy Pact (2015) provides a network to encourage the dissemination of best practices amongst the cities local governments.
What is missing here?
A part from interesting initiative in Latin America, the challenges faced by rural food producers -particularly the lack of markets- are not often considered as a priority for the cities local governments.
This is why -in this context of increasing visibility of food issues in urban agendas- CSA's groups are crucial, not only in their actions of providing fair markets; but also in advocating for farmers-orientated policies.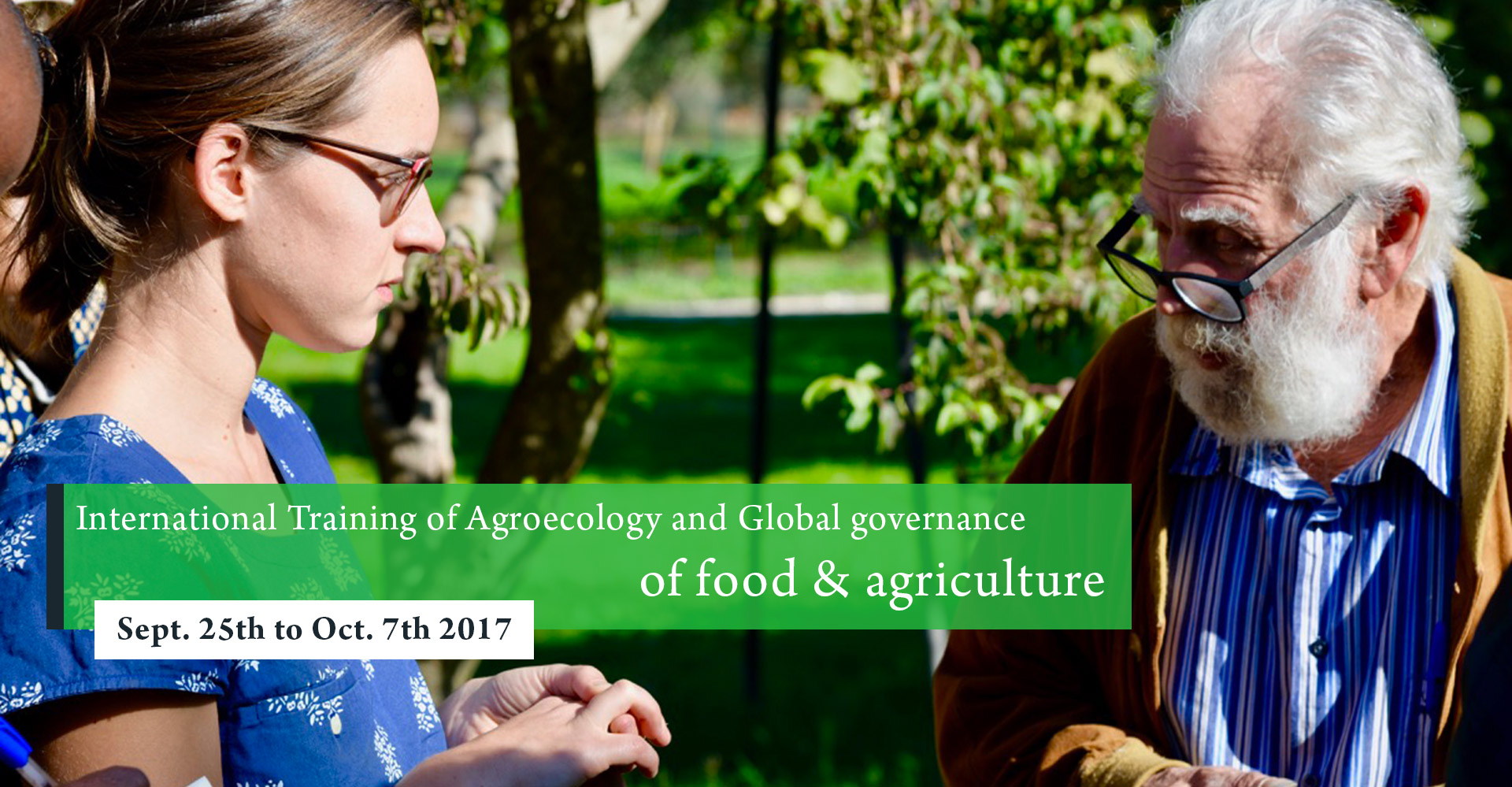 Formacion internationale sur l'Agroécologie et la gouvernance mondiale de l'agrioculture et de l'alimentation
La première fromation de Schola Campesina a eu lieu en 2017 au sein d'une ferme partenaire dans le Biodistrict de la Via Amerina e delle Forre (province de Viterbo).
La formation a rassemblé des membres d'organisations paysannes du monde entier afin de susciter le partage d'expériences et de discuter de questions telles que la gouvernance mondiale de l'alimentation et de l'agriculture, le savoir paysan, l'autonomie paysanne, les pratiques agroécologiques, les luttes paysannes de part le monde, les politiques alimentaires, l'empowerment des femmes en agriculture etc.
Les deux semaines de formation se sont déroulées pour une part à Rome où se trouvent tous les sièges desagences des NU liées à l'agriculture et à l'alimentation. Cette centralité a permis aux participants de bénéficier de savoirs paysans et activistes du monde entier. La plus grande partie de la formation s'est déroulée dans la campagne avoisinante une ferme membre de Schola Campesina (Biobagnolese).
16 participants internationaux, essentiellement des petits agriculteurs des pays du Sud mais aussi des membres d'institutions académiques ont pu échanger dans un esprit d'apprentissage horizontale, entre paires et entre différents types de savoirs (« Dialogo de Saberes »).
Programme détaillé et biblio de référence